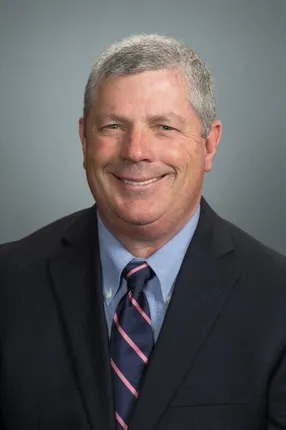 Dr. Anthony W. Hamm is a native of eastern North Carolina and a 1979 graduate of The National University of Health Sciences earning a Doctor of Chiropractic degree (DC). He has owned and directed Hamm Chiropractic Associates in Goldsboro since 1980 with emphasis on assessment and management of adult musculoskeletal disorders. Dr. Hamm has earned diplomate certification in Chiropractic Orthopedics and Forensic Sciences. He has also earned a Master of Science in Health Sciences (MSHS) with a concentration on health care quality from The George Washington University School of Medicine and Health Sciences.
Dr. Hamm has served in leadership for both the North Carolina Chiropractic Association and is a past president of the American Chiropractic Association. He represents the chiropractic profession on the American Medical Association (AMA) Relative Value Health Care Professionals panel as an adviser. He also serves as Chief Clinical Officer for the Institute for Spine Quality, a nonprofit organization whose mission is to improve multidisciplinary spine care.
Dr. Hamm has lectured extensively throughout the country on healthcare quality and reporting, clinical documentation, risk management, and healthcare compliance. He currently serves on the editorial review board of the Journal Academy of Chiropractic Orthopedists. He was honored as Chiropractor of the year by the American Chiropractic Association in 2016.
Dr. Jason Nackley is a 2006 graduate of New York Chiropractic College in Seneca Falls, NY. He earned a Bachelor of Science from Hobart College in Geneva, NY, and was one of the first students at that institution to earn a degree in Kinesiology/Movement Science. Dr. Nackley was first introduced to chiropractic in college as an injured football player. Knowing certain prescribed medications were against NCAA regulations, he sought out chiropractic care as an alternative means of getting well. Dr. Nackley was amazed at the rate and ease of healing that chiropractic provided, and was not kept off the field long. He quickly reunited with his team on the way toward the NCAA championship. From that point on, he knew he wanted to help others as a Chiropractor.
Dr. Nackley is a central New York native, but when asked about his "roots" he will proudly admit that he was born a Texan. Coming from a large family, Dr. Nackley values the importance of close interpersonal relationships. He specifically chose the field of Chiropractic over any other medical field because of the relationships that Chiropractors build with their patients. His willingness to carefully listen to his patients, and take the time to explain the process and benefits of chiropractic, sets him apart from other health care professionals. Patients are not just a number to Dr. Nackley!
A North Carolinian since 2007, Dr. Nackley has been practicing in Goldsboro since 2010. He resides here with his wife, Sarah, and their two daughters. He is pleased to be able to continue building relationships in the Goldsboro community and helping people heal through quality chiropractic care, acupuncture and oriental medicine as well as massage therapy.
Monique Santoro Doctor of Acupuncture and Chinese Medicine Dr. Monique Santoro uses Chinese Medicine in order to bring harmony and balance back into the body. Aside from using needles, she utilizes gua sha, tui na (Chinese massage), cupping, and Qi Gong techniques. She is also an herbalist, who prescribes Chinese herbs to enhance healing.
Her passion is to be a general practitioner to her patient's health and treat ailments from pain, digestive, respiratory, cardiovascular, substance abuse, women's health, etc. She also has a passion for nutrition and incorporates dietary recommendations into her treatments.
With a background in Chinese and Western medicine, Dr. Santoro understands the importance of integrative care. She received her Doctorate of Acupuncture and Chinese Medicine with a concentration in integrative medicine from Daoist Traditions College of Chinese Medical Arts. Her doctorate focus included cardiology, neurology, orthopedics and obstetrics. Her ultimate goal is to assist people in living their healthiest life.